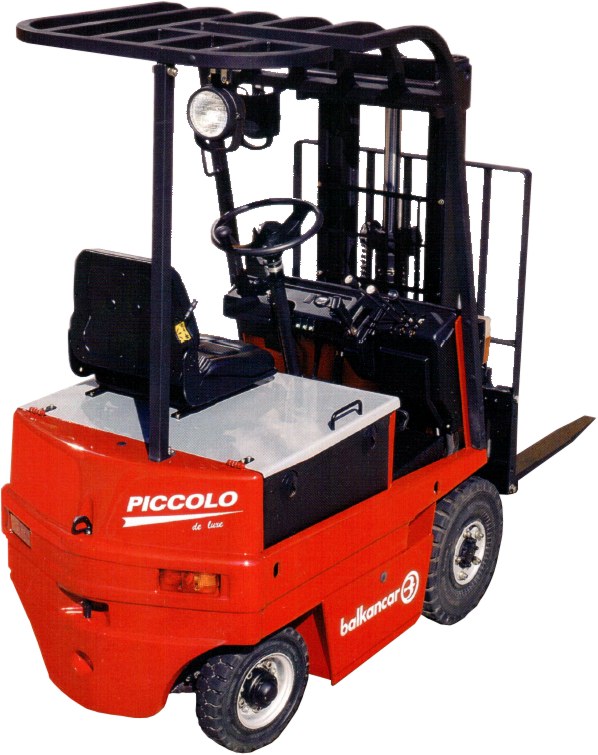 Electrical forklift Piccolo
UNIVERSAL ELECTRICAL POWERED FORKLIFTS PICCOLO and PICCOLO+
EV687 PICCOLO and EV687.1 PICCOLO + universal lifting vehicles for transportation and stacking of palletized goods in storage conditions, at railway stations, ports, airports, for warehouses or inter-workshop transport.
Electric forklifts are adapted for operation in a temperate climatic zone with an ambient temperature interval from -25 C to +40 C, in explosion-proof and fire-proof rooms.
New modifications of EV 687, already familiar on international markets, differ with:
modern design – an original combination of avant-garde form, compactness and good style.
high maneuverability due to minimized overall dimensions and reliability.
ergonomics – optimal conditions have been created for the driver to work with reasonably selected ergonomic parameters.
Type

Capacity [kg]

Lifting Height [mm]

2200 / 3300 / 4000 / 4500
Electrical forklift Compact
Electric fork lift trucks COMPACT (1250 kg-2500 kg) 
Classic trend in our production list. Electric industrial trucks are notable for their clear and simple design. The operator's compartment provides easy access to all controls, excellent visibility and comfort of operation. Electric forklift trucks "Compact" – universal forklift truck for transporting and stacking palletized cargo in ports, warehouses, airports, for internal and external spaces. Electrical forklifts COMPACT are adapted for operation in temperate interval from -25 to +40 environment.
Type

Capacity [kg]

Lifting Height [mm]

2800 / 3300 / 4000 / 4200 / 4500